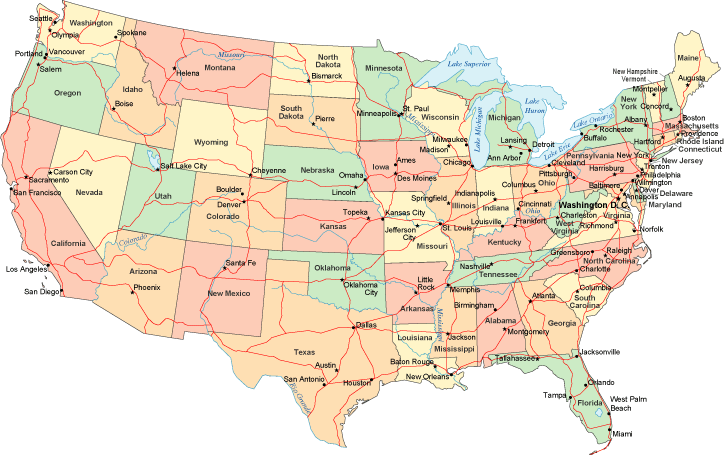 United States Political Map
This political map, of the USA's 48 contiguous states, shows the state outlines, state capitals, and the Interstate Highway network, as well as major cities, rivers, and lakes. This map shows all the states which existed between 1912, when Arizona was added to the Union as the 48th state, and 1959, when Alaska was added as the 49th state. The state reference page lists each state in the order it entered the United States, or "joined the Union," as it sometimes phrased.

The Interstate Highway System, shown in red on this map, celebrated its 50th anniversary during 2006. This ambitious infrastructure project originated with Dwight Eisenhower's vision of a national, limited-access highway system to interconnect the metropolitan areas of USA. Now more than 46,000 miles of Interstate Highways crisscross the nation, in every state except Alaska. Be sure to view the detailed, 10 inch wide maps, including the map of the lower 48 states (excluding Alaska and Hawaii), and the map of all 50 states with adjacent land and water areas.
---
Copyright © 2006-2022 United-States-Map.com. All rights reserved.

USA Map